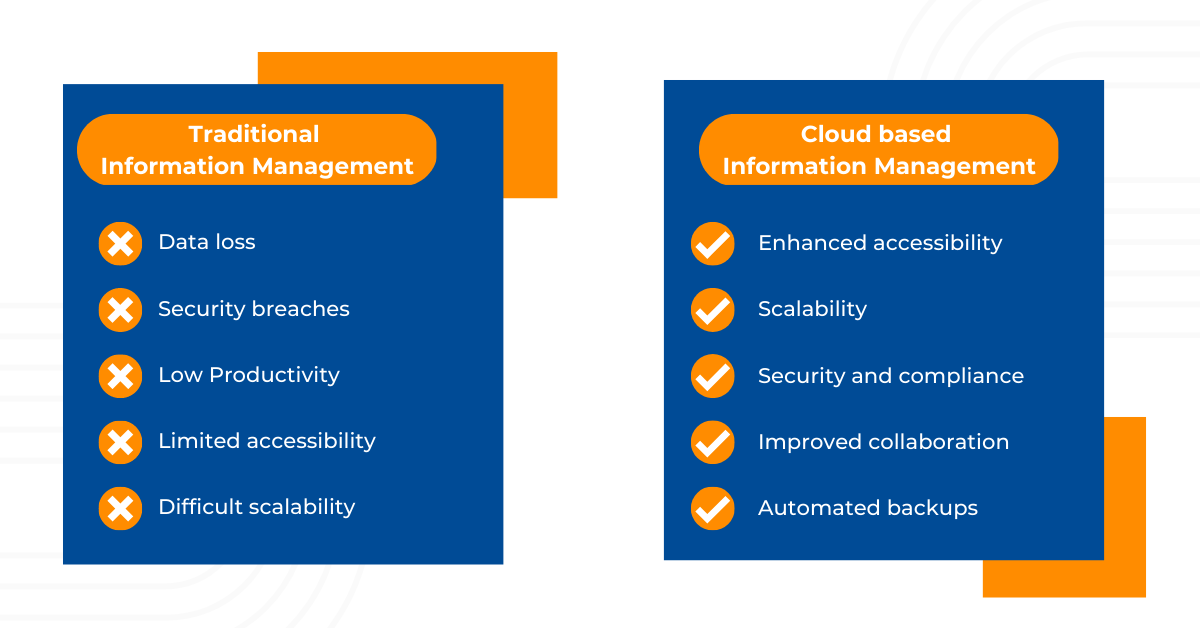 The Growing Challenge of Information Management
The rapid growth of digital data has transformed the way businesses manage and organize information. As organizations become more reliant on digital platforms for everyday operations, the need for efficient and effective information management has never been more apparent. The traditional methods of storing and organizing data are no longer adequate, leading to problems such as data loss, security breaches, and low productivity. This article explores the benefits of adopting a cloud-based information management system to overcome these challenges, with a brief introduction to TeamLinx42 as a potential solution.
Embracing the Cloud for Efficient Information Management
To address the limitations of traditional data management systems, many organizations are turning to cloud-based information management solutions. These systems enable companies to store, organize, and access their data from anywhere at any time. Cloud-based platforms also offer enhanced security, scalability, and collaboration features, making them an attractive option for organizations looking to improve their information management practices.
Unlocking the Benefits of Cloud-Based Information Management
1. Enhanced Accessibility and Flexibility
By hosting data in the cloud, employees can access information and documents from any device with an internet connection. This improved accessibility promotes productivity by allowing team members to work remotely, collaborate more effectively, and access the information they need quickly and easily. Additionally, cloud-based systems can be easily integrated with existing applications and platforms, streamlining workflows and ensuring seamless information access.
2. Scalability and Cost-Effectiveness
Traditional data storage and management solutions can be expensive and challenging to scale as businesses grow. Cloud-based systems offer greater scalability and are often more cost-effective, as they require less physical infrastructure and maintenance. Organizations can also benefit from the pay-as-you-go pricing model, which enables them to pay only for the resources they use. This flexible pricing approach allows businesses to adapt their information management strategy to their evolving needs without incurring significant costs.
3. Security and Compliance
Data security is a top priority for organizations, and cloud-based information management systems can provide robust security measures to protect sensitive data. These platforms often include built-in encryption, secure access controls, and regular security updates, ensuring compliance with data protection regulations. Moreover, cloud providers often have dedicated security teams and resources to continuously monitor and address potential threats, offering an additional layer of protection for businesses.
4. Improved Collaboration and Productivity
Cloud-based information management platforms promote collaboration and productivity by making it easier for team members to share documents, communicate, and work together on projects. With real-time updates, version control, and the ability to track progress, these platforms empower teams to work more efficiently and effectively. Furthermore, centralized information repositories eliminate the need for manual file transfers and version tracking, reducing the risk of errors and inconsistencies.
5. Automated Backups and Disaster Recovery
One of the significant advantages of cloud-based information management systems is their ability to automatically backup data. This feature ensures that important documents and information are not lost due to hardware failure, human error, or malicious attacks. Additionally, cloud platforms often provide disaster recovery services, enabling organizations to quickly restore their data in the event of an emergency, minimizing downtime and potential loss.
Analyzing the Impact of Cloud-Based Information Management
Adopting a cloud-based information management system has the potential to significantly improve an organization's data management processes. By offering enhanced accessibility, scalability, security, and collaboration, these platforms can help businesses overcome the challenges associated with traditional data storage and management solutions. However, it's essential for organizations to carefully evaluate their options and choose a platform that best meets their needs. This involves considering factors such as cost, compatibility with existing systems, and the level of support provided by the cloud provider.
Introducing Team Linx42: A Promising Solution for Information Management
One such cloud-based platform that deserves attention is TeamLinx42. Designed to work seamlessly with Microsoft Teams, TeamLinx42 is an app that allows team members to find documents and information quickly and easily. Its decentralized, self-organized, and collaborative approach ensures that all teams worldwide can share their most important processes, guidelines, and documents with each other, effectively reducing knowledge silos.
Users of TeamLinx42 have praised its ability to streamline onboarding processes, provide an overview of relevant documents and information, and enhance collaboration through shared bookmarks. By integrating TeamLinx42 into their information management strategy, organizations can enjoy the numerous benefits of cloud-based solutions while also leveraging the power and convenience of the popular Microsoft Teams platform.
Implementation and Training Considerations
When adopting a cloud-based information management system, it is essential to plan for a smooth implementation process and provide adequate training for employees. This involves selecting the right cloud provider, setting up access controls and permissions, and ensuring data is migrated securely and efficiently. Additionally, organizations should invest in employee training to familiarize team members with the new system and encourage its adoption.
Continuous Improvement and Future-Proofing
As technology continues to evolve, it is crucial for businesses to stay abreast of the latest developments in cloud-based information management. By regularly evaluating and updating their systems, organizations can ensure they are utilizing the most advanced and effective tools available. This proactive approach not only ensures a company's information management strategy remains relevant but also helps to future-proof their operations against emerging trends and challenges.
Conclusion: The Path Forward for Information Management
In conclusion, adopting a cloud-based information management system can help organizations overcome the challenges associated with traditional data storage and management methods. By embracing solutions like TeamLinx42, businesses can unlock the full potential of their digital data, driving improved productivity, collaboration, and security. As the digital landscape continues to evolve, cloud-based information management solutions offer a powerful and flexible way for organizations to stay ahead of the curve and maximize the value of their digital assets.